On our Pinterest board we maintain a collection of more than 1,000 of the best social media infographics for our customers.
From what we can see, social selling seems to be alive and well on the 'visual web'. Here is a collection of some of the best infographics of the past few months related to Social Selling (according to us).
Enjoy!
1. How B2B Sales Has Changed
Let's start by grounding ourselves on why social selling matters. The team at Maximize Social Media put together the infographic below to summarize how B2B sales has changed vs. just a few years ago. In short, inbound marketing and social selling are replacing cold calling and in-person lead generation as the preferred method of opening B2B sales opportunities.
Social selling matters today because today's B2B buyers prefer doing their own research (often online) before contacting a sales person, and they are spending more and more of their time learning about their options from other people in social media. If you aren't actively engaging with them there, you can't participate in the conversation.
2. Account Executive Social Selling Study
So what is today's "state of the market" with respect to social selling practices among account reps? This study of LinkedIn profiles from SalesforLife shows that we're still in the early stages, with plenty of improvement left. That may lead a competitive advantage for early adopters.

3. Online vs. Offline Leads Compared
Generating your own leads is part-and-parcel to professional sales. As this Salesforce.com graphic shows, online leads offer many advantages over their offline counterparts. You'll want to respond immediately to online leads – but don't be too forward, or you'll may lose the connection.

4.  17 Steps to a Perfect LinkedIn Profile
Do you think LinkedIn is mainly a place to post your resume? Then you're missing out on one of the easiest ways to market yourself to customers in social media: your LI profile!
If you sell anything B2B, your very first step in your social selling journey should be to set your LinkedIn profile up properly to sell for you, 24/7.  This infographic from Maximize Social Business shows you how to do this.
5.  Build Your 12 Step Social Selling Routine.
It only takes 30-60 minutes a day to tap social media for new prospects, as this infographic from Ben Martin shows. Set a time budget, get organized and keep to your time limits – and you'll be generating new leads in no time.

6.  Your Twitter Social Selling Gameplan
If LinkedIn is the king of social selling, then Twitter is the queen. Twitter is the best place online to find like-minded people you don't already know, to share content and to establish yourself as a trusted expert.
Twitter's also easy to learn. It only takes 4-5 weeks to learn how to use Twitter for social selling. Here's a great outcome-focused gameplan to get your Twitter game up to speed.
7.  How To Get More Retweets
Once you learn how to use Twitter, you'll quickly learn the importance of getting your messages re-tweeted so you can reach a much larger audience. In this infographic, QuickSprout (Neil Patel's SEO shop) reveals the right and wrong ways to get others to share your awesome links – based upon a detailed analysis of user behavior on Twitter.

8.  How To Create Perfect Social Media Posts
As your social selling outreach takes you to new platforms, you'll need to know how to create content that works for each particular audience. Use this handy SproutSocial infographic to save time and avoid mistakes.

9.  The Role of Content In Social Selling
Most of your time doing "social selling work" will probably be spent either creating, sharing or engaging with content. This graphic explains just how important your mastery over quality online content matters in attracting and closing new business online.

10. Social Selling: It's All About Relationships
At the end of the day, social selling is just like any other kind of sales activity: your goal is to build strong, trust-based relationships with prospects and customers which eventually lead to sales.This infographic by Introhive shows us that the most successful social sellers prioritize relationships over everything else.
11. How To Connect With People
When sales prospecting in social media, one of the hardest things to do is to think of a way to connect with a prospect without turning them away. This graphic from FundersAndFinders reminds us there are many ways to connect with people we just met, in the real world. The good news? all of these can be used online, too! Feel free to be creative when approaching prospects on Twitter and LinkedIn – but above all, be yourself.

12. Touchpoints You May Be Missing on LinkedIn
LinkedIn can be a complex place to prospect. There are so many options for finding and connecting with people you can get lost. The graphic below from MarketingThink.com provides a handy list of the methods that work best.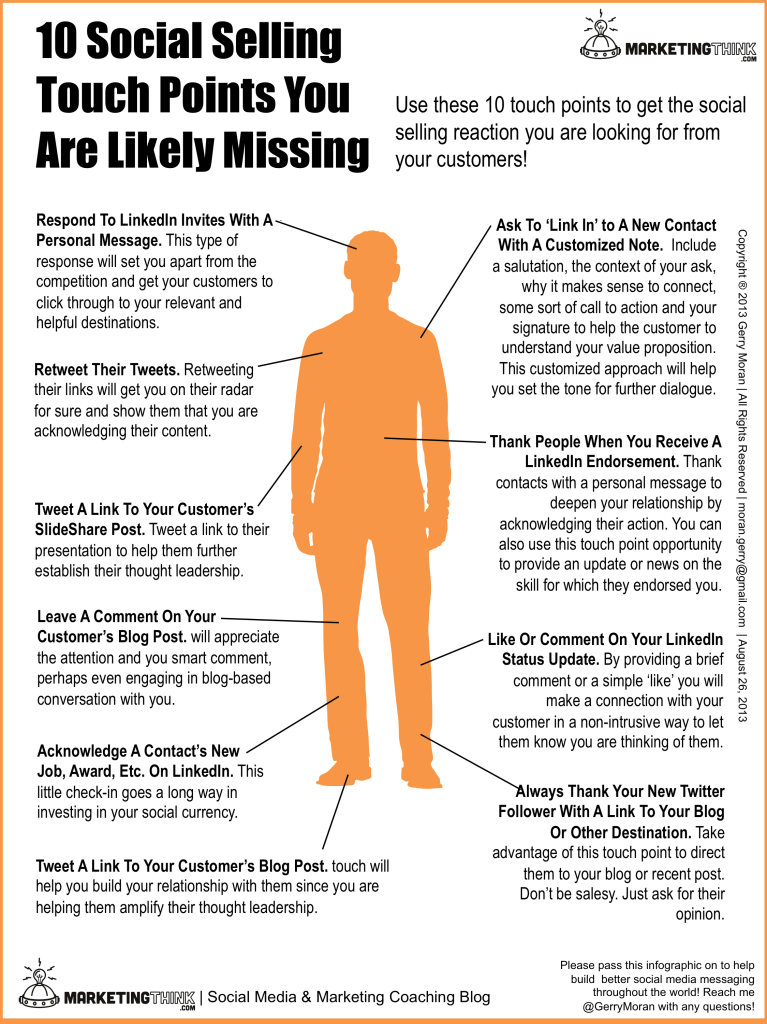 We hope this collection helps you get onboard with social selling and make it your own.
Happy prospecting!
12 Awesome Social Selling Infographics You Shouldn't Miss
by
Vernon Niven